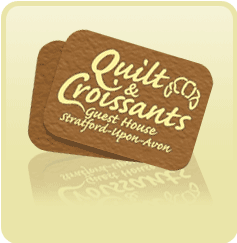 Photogallery
Take a look at some pictures from the Quilt & Croissants Guest House and the surrounding area of Stratford upon Avon.
Tariffs
Room rates start from £40.00 per night without breakfast at time of booking.
Single Standard from £40.00 - £55.00 per night
Single En-suite from £50.00 - £75.00 per night
Twin En-suite from £35.00 - £50.00 per person / per night
Triple En-suite from £30.00 - £40.00 per person / per night
Prices vary depending on the availability & time in the year.
Special rates are available – please contact us for further information.
Click here to contact Quilt & Croissants
Cancellation Policy
Reservation may be cancelled up to 7 days before the day of arrival without any charge. In the event of a later cancellation the full price may be due if we are unable to re-let the room(s)
Deposits/Payments - For payments made by cheque or cash 1 nights deposit will be required. Regretfully we do not offer payment by credit card at the time. However, payment can be made by internet banking transfer. Please ask for details
Check in and Check out times - Our rooms are ready for check in after 1.pm but guests are welcome to check in earlier by arrangement. Our check out time is 10am.
Luggage and cars - We offer free parking subject to availability. Luggage can be left for later pick up - please ask for details
Breakfast times - Full breakfast is usualy served between 0800hrs - 0900hrs. Earlier breakfasts can be arranged by agreement.
Gift vouchers - We have introduced gift vouchers for every occasion : a great idea to offer the people you love an opportunity to celebrate a special occasion. Please ask for details